Outer Island Conservation
Importance of the Refuge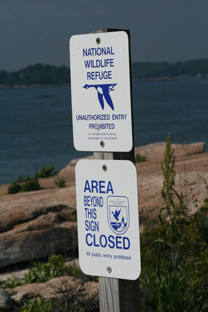 Outer Island is a part of the Stewart B. McKinney National Wildlife Refuge which is composed of islands, salt marshes, grasslands, and coastal forests which provide resting, feeding and nesting habitat for 1,000's of migratory birds as they travel along the Atlantic Flyway that traverses all of the refuge's units.
Outer Island with its many species of flora and fauna is an important part of the Long Island Sound ecosystem. The various marine organisms that flourish on its shores are food for small fish that are preyed upon by birds such as egrets, terns, and waders along the shore and by osprey, cormorants, seal and even fishermen in the open sound. This compact five acre island serves as a resting and feeding stopover for birds migrating across Long Island Sound during spring and fall.
Migratory Birds & Threatened Species
Five-acre Outer Island Unit, the southernmost island in the Thimble Islands chain, was donated to the Service in 1995 for environmental education and scientific research purposes. There is a cooperative partnership between the Service and the Connecticut State University System to provide environmental education and scientific research programs for the public while assuring the well-being of the migratory bird species that utilize the coastal environments of Long Island Sound. This small island serves as important stopover for birds migrating across Long Island Sound during the spring and fall. The northern and western portions of Outer Island are closed to the public to provide migratory birds and other wildlife an area free from human disturbance.

Intertidal Zone