Outer Island Visitor Information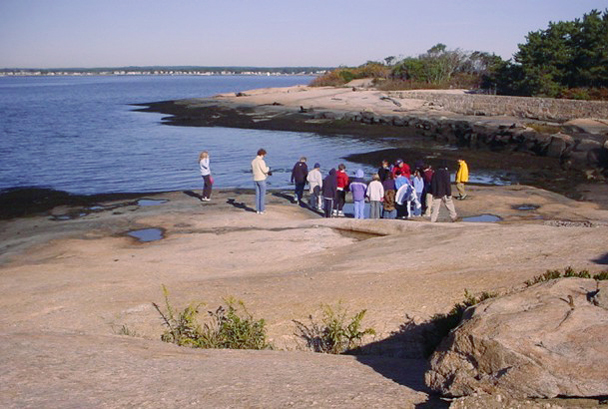 Outer Island, the outermost of the Thimble Islands, located off the coast of Stony Creek, Branford, Connecticut, is part of the Stewart B. McKinney National Wildlife Refuge. Outer Island includes granite outcropping, boulder and cobble beaches in the intertidal zone and two small salt marshes. It palys host to a number of interesting bird species and other wildlife throughout the year. The refuge operates in partnership with Connecticut State University's Central and Southern campus Faculty who coordinate educational and research activities.
The island is open for visitation daily from May 30th through September 25th each year. Individuals and families who wish to visit may do so during normal operational hours, 8am to sunset, without a reservation.
There are several ways visitors can get to Outer Island. They may arrive by kayak or other motorless craft and beach their vessel in front of the education lab building. Visitors may also bring a small motorboat and side-tie them to the floating dock in accordance with posted signs and rules. Finally, they may take a ferry "or water taxi" and be dropped off at the floating dock.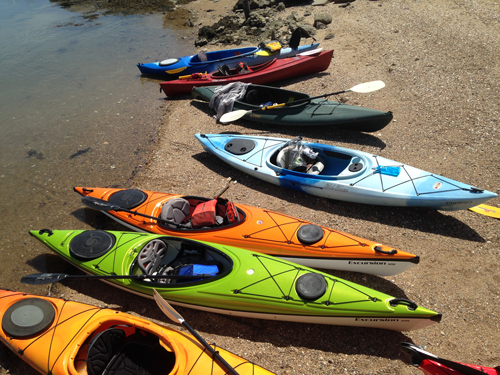 Visitors must:
Move quietly and look carefully to see the wildlife
Stay on trails and pathways
Respect designated and other closed areas ang other signage
Comply with requests from staff and volunteers
Carry out all trash when your leave
Classes or other educational group visits must be reserved in advance.
To make a group reservation, please contact:
Dr. Vincent Breslin (Southern Connecticut State University, Department of the Enviroment, Geography and Marine sciences/ Center for Coastal & Marine Studies)
Check the weather prior to visiting the island by clicking on one of our links on the right hand panel.
If you have a group reservation, you will need to make your ferry arrangements—call Thimble Islands Ferry (203.889.8365), or visit www.thimbleislandsferry.com. If you need to cancel your island visit (inclement weather, etc.) please notify the ferry service, and any scheduled docent.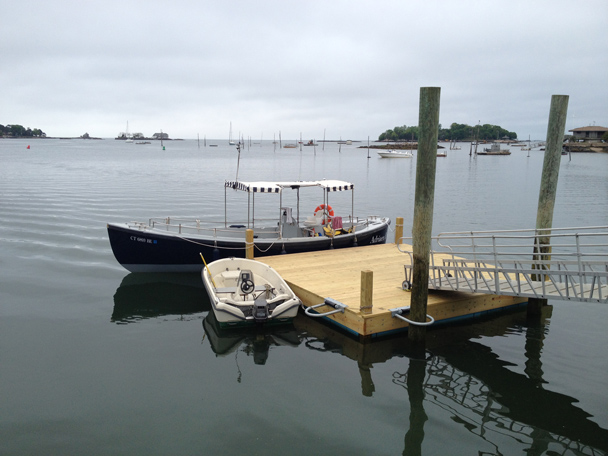 Detailed Information on Group Reservations
Connecticut State University coordinators schedule all environmental education groups—to include schools, universities, community and civic associations, group travel trip organizers or other parties interested in going to Outer Island. Reservations for the coming summer season will be taken starting March 1st of each year. Reservation dates may include any day from May 30th to September 25th of each calendar year. To take full advantage of the opportunities of the intertidal areas on the island, group leaders should consult the NOAA Tide Chart for Branford River. They should try to schedule a visit when tide levels are low.
Supervising teachers and chaperones should be prepared to be active participants in supervising group behavior and assisting in the conduct of the educational programming.
Groups and other organizations should contact Dr. Vincent Breslin (Professor, SCSU) via email for a reservation at least two weeks before their intended visit. All requests will be scheduled on a first-come, first-served basis. Email requests should include:
"Outer Island Visit" in the subject line
The name of the organization
Cell phone number of the organization's representative (this number must be a person who will accompany the group to the island)
Primary requested date and time
Secondary date and time
A short description of activities
The recommended maximum group size is 30 persons including chaperones. In the case of groups made up of persons under eighteen years of age, there must be one chaperone for every eight minors. Names of chaperones must be provided. Groups should be aware that they may not have exclusive use of the island, as other visitors (and sometimes groups) may be enjoying the island at the same time.
Trips will be scheduled, and the contact person notified, by the CSU coordinators within three business days of receipt of the email. The group will receive the link to the CSU website which will show that their reservation has been placed on the Outer Island schedule.
Visiting groups are responsible for their own transportation from their respective locations to the dock at Stony Creek in Branford, CT. Groups are also responsible for making reservations with the island ferry service to get to the island. The ferry service may be contacted by phone (203.889.8365) or via the Thimble Islands Ferry website. Trained Island Keepers and/or a CSU faculty coordinator/representative will supervise educational programming on the island. The CSU coordinators and/or the USFWS will have the right to cancel any scheduled trip due to weather concerns or infrastructure issues on the island.
Visitors must obey all posted signs and any appropriate instructions given to them by island keeper interns, CSU coordinators, USFWS staff, and volunteers. The map below shows the "Closed Areas" of the Island: